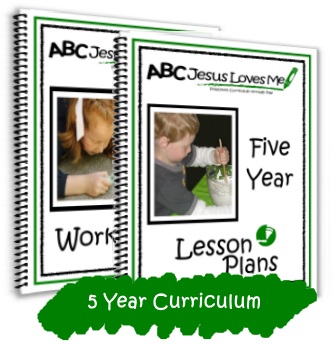 Written below are lists containing the craft supplies, games, supplemental materials, and books suggested throughout the 5 Year Curriculum. While the lists may seem daunting at first, I believe that you will find the vast majority of the supplies already in your home. If they are not, I suggest that these items be available for your child to use and play with to expose your child to many textures, activities, books, and play.
Items are divided into categories to make them easier to find and linked to Amazon so that you view a picture of each item. Most of these items should also be available at your local supermarket but may be substituted with other items on hand. View the 5 Year Lesson Plans to see how each item is used.
Again, do not get overwhelmed by this list. Substitute items with what you already have in your home.
View all Complete Curriculum supply lists.
Books
Week 1
Bible, Blueberries for Sal, Bob Books
Week 2
I Am Invited to a Party!
Week 3
The Little House
Week 4
Blueberries for Sal , I Am Invited to a Party! , The Little House
Week 5
Poppleton In Winter
Week 6
The Berenstain Bears and the Truth
Week 7
The Rainbow Fish
Week 8
Me on the Map , Mrs. Rosey Posey and the Fine China Plate , God, I Need to Talk to You About Laziness
Week 9
Poppleton In Winter , The Berenstain Bears and the Truth , The Rainbow Fish , Me on the Map
Week 10
The Runaway Pumpkin
Week 11
Stone Soup
Week 12
Town Mouse, Country Mouse
Week 13
Little Rabbit's Loose Tooth , My Dentist, My Friend
Week 14
The Runaway Pumpkin , Stone Soup , Town Mouse, Country Mouse , Little Rabbit's Loose Tooth
Week 15
God Gave Us Christmas, Touch and Feel Books
Week 16
Snowmen at Night , Remy the Rhino Learns Patience , God, I Need to Talk to You About Whining
Week 17
God, I Need to Talk to You About Bullying , Christmas Cookies: Bite-Size Holiday Lessons, Food for Thought, Cloudy With a Chance of Meatballs, Let's Be Kind
Week 18
No Matter What , God Gave Us Love , God Gave Us Christmas
Week 19
God Gave Us Christmas , Snowmen at Night , Christmas Cookies: Bite-Size Holiday Lessons , No Matter What
Week 20
Caps for Sale
Week 21
Mercy Watson to the Rescue , Going to the Doctor , My Doctor, My Friend
Week 22
Doctor De Soto , Little Red Riding Hood , The Berenstain Bears Learn About Strangers
Week 23
Corduroy
Week 24
Caps for Sale , Mercy Watson to the Rescue , Doctor De Soto , Corduroy
Week 25
The Tortoise and the Hare , Old MacDonald Had a Farm , Moo, Baa, La La La!
Week 26
The Little Engine That Could
Week 27
Enemy Pie
Week 28
What Do You Do with a Tail Like This? , Good Night, Gorilla
Week 29
The Tortoise and the Hare , The Little Engine That Could , Enemy Pie , What Do You Do with a Tail Like This?
Week 30
Harold and the Purple Crayon , Are You My Mother? , Duck on a Bike , The Little Red Hen , The Big Picture Story Bible
Week 31
Mike Mulligan and His Steam Shovel
Week 32
The Tale of Three Trees
Week 33
Harold and the Purple Crayon , Mike Mulligan and His Steam Shovel , The Tale of Three Trees
Week 34
A Pocket Full of Kisses
Week 35
Hermie: A Common Caterpillar , The Three Little Javelinas , Whoever You Are , Dodsworth Books , Same, Same But Different
Week 36
Hermie: A Common Caterpillar , A Pocket Full of Kisses
Craft Items

_______
Brads
_______
Cardboard
_______
Cardstock
_______
Children's Safety Scissors
_______
Cloth
_______
Coffee Filter
_______
Colored Pencils
_______
Confetti
_______
Construction Paper
_______
Cotton Balls
_______
Craft Sticks
_______
Crayons
_______
Crete Paper
_______
Felt
_______
Fingerpaint
_______
Glitter
_______
Googly Eyes
_______
Glue, Glue Sticks
_______
Happy Face Stickers
_______
Hole Punch
_______
Ink Pad
_______
Markers
_______
Old magazines
_______
Newspaper or grocery sacks
_______
Paint
_______
Paint Brush
_______
Paper
_______
Paper plates
_______
Pencil
_______
Pine cone
_______
Pipe Cleaners
_______
Plastic-foam tray
_______
Pom-poms
_______
Ribbon

or elastic

_______
Rubber bands
_______
Rubber stamps
_______
Sidewalk Chalk
_______
Stapler
_______

Sticky Tack

_______

Straw

_______
String
_______
Tape
_______
Tissue Paper
_______
Toilet paper rolls
_______
Watercolors
_______
Yarn
Food

_______
Bean or radish seed
_______
Beans or macaroni (dry)
_______
Bird Seed
_______
Blueberry Jello
_______
Breadsticks
_______
Candy (assorted)
_______
Celery
_______
Cheerios
_______
Chocolate Chip Cookies Ingredients
_______
Cinnamon
_______
Circle Cereals
_______
Colorful Food
_______
Cooking Oil
_______
Corn Syrup
_______
Dark Soda (Coke, Pepsi, etc)
_______
Dish Soap
_______
Eggs
_______
Epson salt
_______
Essential oil
_______
Finger Jello
_______
Flour
_______
Food coloring
_______
Fruit Loops
_______
Goldfish
_______
Gummi Fish
_______
Hershey Kisses
_______
Ingredients for Bird Nest Cookies
_______
Ingredients for a Blueberry item
_______
Ingredients for Homemade Bread
_______
Ingredients for Homemade Butter
_______
Ingredients for Homemade Ice Cream
_______
Ingredients for Ice Cream Cone Tree
_______
Ingredients for Kansas Dirt Cake
_______
Ingredients for Peach Tart
_______
Ingredients for Pizza
_______
Ingredients for Human Puppy Chow
_______
Ingredients for Stone Soup
_______
Kosher Salt or Parmesan Cheese
_______
Margarine
_______
Marshmallows
_______
M&M's
_______
Peanut Butter
_______
Pepper
_______
Pretzel Sticks
_______
Pudding
_______
Pumpkin
_______
Raisins
_______
Rice
_______
Salt
_______
Sea salt
_______
Shaving Cream
_______
Sugar
_______
Toast
_______
Unsweetened Powdered Drink Mix (Kool-aid)
_______
Vinegar
_______
Wagon Wheel Pasta
Household Items

_______
A-B-C and 1-2-3 Cutter Set
_______
Ace Bandage
_______
Air Pump
_______
Aluminum Foil
_______
Analog Clock
_______
Baby Oil
_______
Bags
_______
Bandaids
_______
Blender
_______
Blindfold
_______
Box or Laundry Basket
_______
Bucket
_______
Butcher Block Paper
_______
Buttons
_______
Coins
_______
Cylinder container with lid
_______
Egg carton (paper)
_______
Eyedropper
_______
Flashlight
_______
Gallon-sized Ziptop bag
_______
Gauze
_______
Glass Jar
_______
Hairdryer
_______
Hammer
_______
Handkerchief or scarf
_______
Ice
_______
Kitchen Scales
_______
Magnifying Glass
_______
Nail
_______
Old Belt
_______
Packing Peanuts
_______
Painter's Tape
_______
Paper Towels
_______
Pillows
_______
Plastic Wrap
_______
Plate
_______
Rope
_______
Sand
_______
Sensory Tub (dirt, sand, beans)
_______
Small Notebook
_______
Sock
_______
Sponge
_______
Spray bottle
_______
Tea Kettle
_______
Thread
_______
Tin Cans or Paper Cups
_______
Toothbrush
_______
Toothpaste
_______
Tweezers or tongs
_______
Wall Calendar and Weather Pocket Chart
_______
Wax Paper
_______
Weather Chart
_______
Wooden Spoon
Toys

_______
Balls
_______
Balloons or beach ball
_______
Bat
_______
Dice
_______
Doctor Set
_______
Dolls
_______
Farm, Zoo Animals
_______
Flashcards (letters, numbers)
_______
Lacing Beads and String
_______
Legos
_______
Magnetic Numbers and Magnetic Letters
_______

Matchbox Cars

_______
Mega Block
_______
Modeling clay
_______
Musical instruments
_______
Parquetry Block Super Set
_______

Puzzle s

_______
Play Dough
_______
Stuffed animals
_______
Teddy Bears
_______
Toy cars, trucks
_______
Water toys
_______
< a title="Wooden Blocks" href="https://www.amazon.com/gp/product/B000068CKY/ref=as_li_ss_tl?ie=UTF8&tag=abjelome-20&linkCode=as2&camp=217145&creative=399349&creativeASIN=B000068CKY" target="_blank" rel="noopener">Wooden blocks