Parable of the Talents Activities and Crafts
10 Coins
Cut ten small circles out of cardboard.  To create coins, give the child small pieces of aluminum foil to cover each circle.  Point and count the ten coins  (Use this craft to focus on the circle letter and number characters as well.)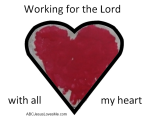 Working for the Lord
Keeping the hand tight, I painted the entire hand.  The heart is created with two prints laid together at an angle.  The finger tips are at the bottom of the heart.  You can also make small hearts using two thumb prints arranged to make a heart.  Add the title "Working for the Lord with all my heart.  Colosians 3:23"
Responsibilities
Even though the child is young, they still have responsibilities.  Discuss and list the responsibilities that everyone in their family has.  See a list of age-appropriate chores and cooking ideas.