Our Terms and Conditions allow the below Lesson Plan and Worksheets to be used for immediate family use ONLY. Use beyond this is a violation.


Objectives:

Character Scripture: Wisdom
Proverbs 4:5-9 (NIV) - Get wisdom, get understanding; do not forget my words or turn away from them. Do not forsake wisdom, and she will protect you; love her, and she will watch over you. The beginning of wisdom is this: Get wisdom. Though it cost all you have, get understanding. Cherish her, and she will exalt you; embrace her, and she will honor you. She will give you a garland to grace your head and present you with a glorious crown.

Sign Language: Mommy, Daddy, Hot, Cold
Books: Three Little Pigs; Mr. Brown Can Moo! Can You?; My Little Word Book; Moo, Baa, La La La!
Fine Motor: Body Parts
Gross Motor: Obedience
Suggested Activities:

• Review all objectives and books covered in the past weeks, and complete any activities that you were unable to finish.

• Fine Motor Skill: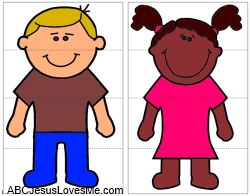 While standing in front of a large mirror, ask your child to point to her head, mouth, ears, eyes, nose, hands, finger, feet, toes, knees, and shoulders.
• Optional Addition:
Each review week in the Complete 1 Year Curriculum includes ideas for field trips and making memories. Click to purchase the complete curriculum.

• Gross Motor Skill:
Adding to the obedience of stop and go, this week add "stay" and "come" playing a game similar to Red Light, Green Light. Tell the child to "stay" and "come" to see how quickly she can stop and go on the commands.