Toddler Christmas Activities
•
Weeks 15-19 in the 2 Year Curriculum cover the theme "Happy Birthday, Jesus." Use activities in these weeks to celebrate Christmas in your home.
•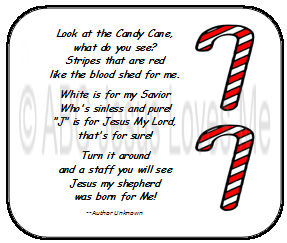 Fingerpaint the Candy Cane worksheet with red and white. For more ideas read the blog post "Candy Cane Poem."
Christmas Song
Silent Night (Traditional)
Silent night, holy night
All is calm, all is bright
Round yon virgin, mother and Child
Holy Infant so tender and mild,
Sleep in heavenly peace,
Sleep in heavenly peace.
Additional Christmas Ideas
For additional ideas check out the ABCJLM Christmas Ideas page.