Our Terms and Conditions allow the below Lesson Plan and Worksheets to be used for immediate family, home use ONLY. Use beyond this is a violation.
Items Needed:
Worksheets:
Books:
Activities:
Play dough
Yellow colored food
Red and blue tissue paper squares
Goldfish
Paper plate
Yellow streamers
String
Scissors
Yellow jumbo crayon
Q-tips
Objectives:
Bible Theme: God Made the World Around Me
Lesson: Sun, Moon, Stars

Bible Story: Creation Day 4
Scripture: Genesis 1
Read & Share Toddler Bible
ABCJLM Interactive Bible Stories
Verse: Genesis 1:1 - In the beginning, God created the heavens and the earth.
Tune: "Are You Sleeping"
In the beginning, (2x)
God created (2x)
The heavens and the earth (2x)
Genesis 1:1 (2x)

Bible Song: Praise God (Adapted from Unknown Source)
Tune: Three Blind Mice
Hands on your head
Hands on your nose
Hands on your shoulders
Hands on your toes
Do a little side step (step to the side)
Do a little swing (rotate entire body at waist)
God wants you to praise Him (lift hands over head and sway from side to side)
In each and every thing (jump up and down)

Poem: Twinkle, Twinkle Little Star (Traditional)
Twinkle, twinkle, little star, (wave fingers in the air)
How I wonder what you are! (shrug shoulders)
Up above the world so high, (hand to forehead and look into sky)
Like a diamond in the sky! (make diamond with fingers)
Twinkle, twinkle, little star, (wave fingers in the air)
How I wonder what you are! (shrug shoulders)
Color: Yellow
Shape: Circle
Letters: A-G
Numbers: 1-2
Information: First Name
Self-care and Manners: Say "Thank you"

Book of the Week:

One Fish Two Fish Red Fish Blue Fish by Dr. Seuss

Fine Motor Skill: Peg Puzzles
Gross Motor Skill: Red Light, Green Light
Suggested Activities:
• Bible:
-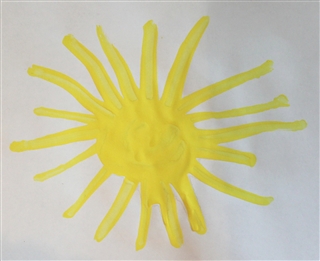 Sunburst - Place a dollop of yellow paint on a piece of paper. Using a cotton swab, popsicle stick or the child's finger, pull the paint away to make sun rays.

-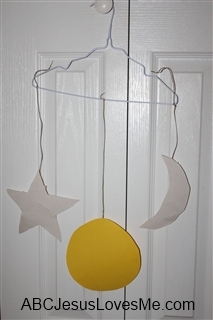 Create a Creation Mobile. Using the worksheet as a template, cut the shapes out of appropriately colored paper. Add a string to the cut outs and hang to create a mobile.

-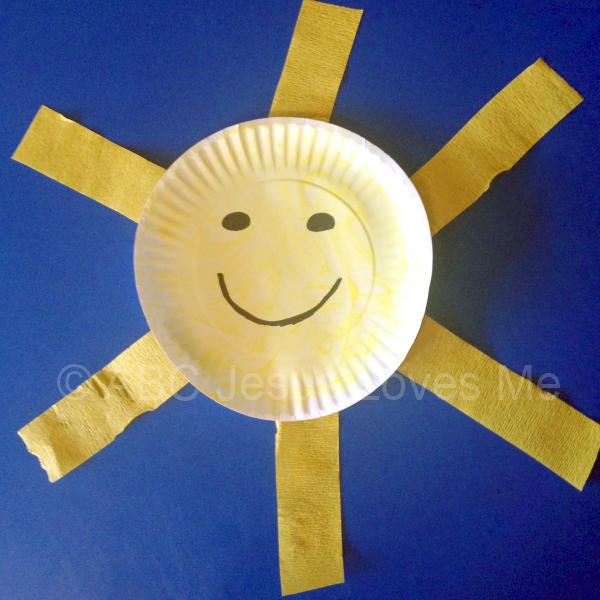 Happy Sun - Paint a paper plate yellow. Add a face and yellow streamers along the edges.

- Creation Fingerplay
On Day 1 (On numbers - put corresponding fingers in the air)
God created light (close fists and then quickly open in the air and bring down to side creating arches)
On Day 2
God created the sky (wave arms in the air) and water (make waves with hands)
On Day 3
God created land (with palms facing the floor, run hands flat in front of you) and plants (place one fist inside the other and pop the one fist through the other - sign language for plant)
On Day 4
God created the sun (hold arm up in the air with fingers spread wide), moon (with opposite arm make a "c" formation with your hand in the air), and stars (with index fingers putting up alternate right and left hand moving up in the air - sign language for stars)

• Color:
-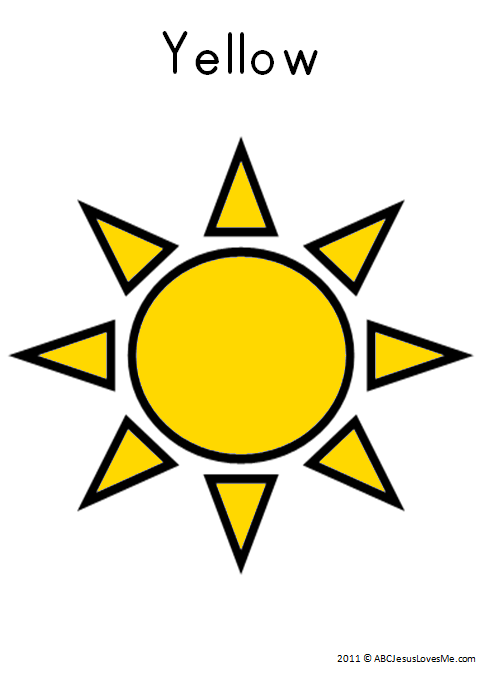 Color one of the ABCJLM Yellow Worksheets with a jumbo yellow crayon.

- Eat yellow food: Yellow squash, bananas, lemon, lemonade, lemon cookies, cheese, crackers, chips

- Do a Color Walk: Walk around the house or neighborhood looking for the color yellow.

• Shape: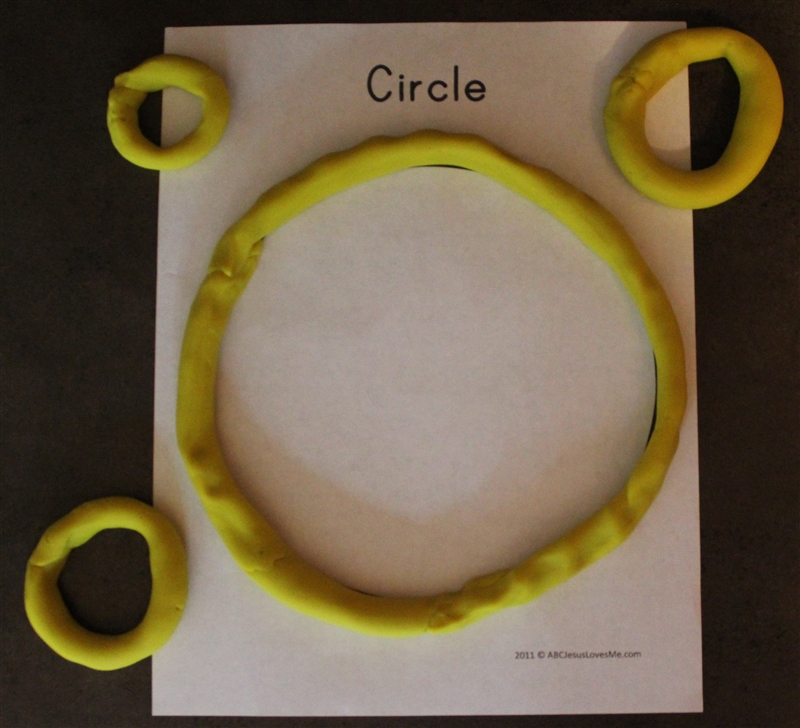 Using yellow play dough, make "snakes" to form long lines. Join the ends to make a circle. Add rays (lines) to a large circle to create a sun. Because play dough sometimes ends up in the mouth, I encourage you to make your own. Click to see my favorite play dough recipe.

• Number: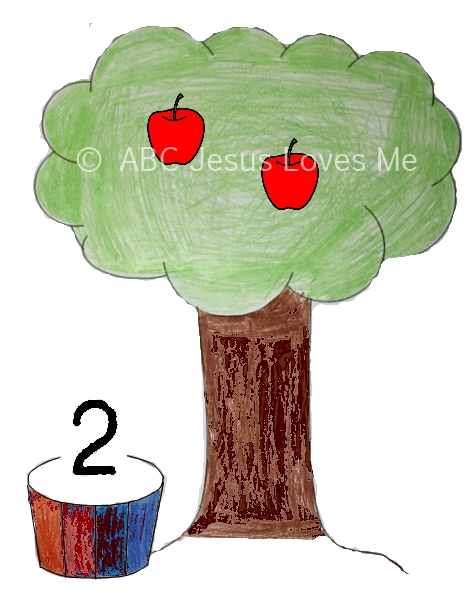 This week use jumbo colored pencils to decorate the Apple Tree #2 worksheet. Add two apple stickers. Continue to count items throughout the day.
• Self-Care and Manners:
Help the child remember to say "thank you" after anyone gives or helps him/her with something. Saying "thank you" shows respect and gratitude.

• Book of the Week:
- Eat goldfish (sometimes you can find colored goldfish)

-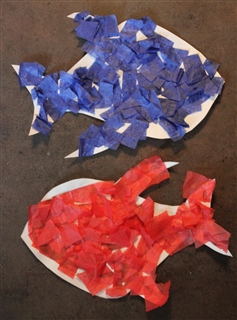 Glue squares of tissue paper on the Red Fish Blue Fish worksheet to create one red fish and one blue fish. Use the fish to work on counting "1, 2". Be sure to point to each fish while counting.

• Fine Motor Skill:

Put together Peg Puzzles. Encourage your child to pick up the puzzle pieces using his/her thumb and index finger.

• Gross Motor Skill:
Play Red Light, Green Light - This game is a fun way to practice obedience (stopping when told to do so). Play this game while on a trampoline, doing an activity at the park, or running or walking beside each other. Teach the child to immediately stop when given the "red light" command. If the child learns this skill, it can be used in an emergency situation such as a parking lot.