Our Terms and Conditions allow the online Lesson Plan and Worksheets to be used for immediate family, home use ONLY. Thank you for your honesty.


Items Needed:
Tactile Numbers and Letters: 0-14, Aa-Xx
CDs: Hide 'Em in Your Heart Vol. 1
Activities: Easter Eggs, Fingerpaint
Books: Bible, From Head to Toe, Carrot Seed, The Little Red Hen

Objectives:
Math:
AB Pattern - review
Letters:
Aa-Xx
Numbers:
0-14
Fine Motor Skill:
Fingerpaint
Gross Motor Skill:
Memory Obstacle Course
Suggested Activities:
• Review all objectives and books covered in the past weeks, and complete any activities that you were unable to finish.

• Letters and Numbers:
Hide plastic Easter eggs filled with pieces of paper with numbers and letters on them. Once the eggs are found, have your child name the number or letter and phonetic sound. This activity may be carried further to have your child then put the numbers or letters in sequential order.

• Name:
-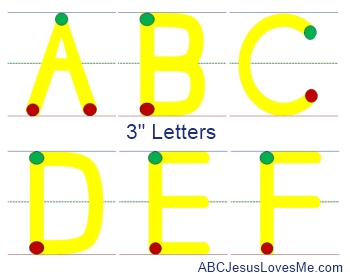 For the past three weeks, the child has learned to write the first three letters in his last name. Weeks 34 and 35 will work on the fourth and fifth letters. If the child's last name contains more than five letters, add an additional letter this week.

- Either print out the child's name using the Letter Posters or draw it on poster board using bubble letters. On each letter, glue items that begin with that letter. For example: Ben - B (buttons), E (egg shells), N (noodles) (Thank you Shannon for this idea.)
• Fine Motor Skill:
Draw shapes on pieces of paper. Allow the child to fingerpaint the shapes.
• Gross Motor Skill:
Create a Memory Obstacle Course asking your child to bring specifically colored Easter eggs. If the child is ready, ask him to bring two colors.