image by Jaclyn
Lacing is an excellent activity to improve fine motor skills and visual perception. The child must use hand-eye coordination to move the string through the holes.
Quickly Make Your Own Lacing Cards
Using any of the ABCJesusLovesMe Curriculum worksheets, create your own lacing cards by gluing the worksheet to cardstock or cardboard and hole punches along the outline of the image.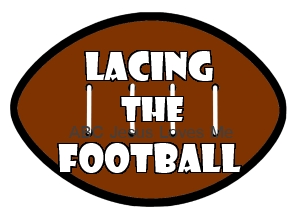 Print the Lacing Football printable on cardstock. Color and cut out the football. Punch holes for the child to lace. Thank you to Amy for sharing this idea.
Purchase Lacing Products
Lacing cards are available in a plethora of themes. Match the lacing cards with other learning objectives to further the learning. (For example: ABC Lacing Cards.)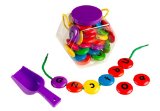 ABC Lacing Beads are also available to purchase.
See more fine motor activities for preschoolers.