Mazes are wonderful worksheets to help a child improve Visual Perception and Fine Motor Skills. They are a fun way to work on tracking ability.
Along with fine and gross motor activities, each Lesson Plan in the 4 and 5 Year Curriculum contains Visual Perception Activities. One such activity is Mazes (available by link in the Lesson Plans or in purchasing the Visual Perception Workbook) introduced in Week 7. Teach the child to keep the pencil from hitting the lines while doing the mazes.
Here are a couple of additional mazes used throughout the curriculum.
-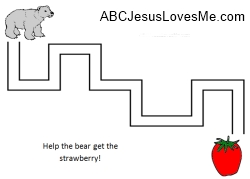 The Little Mouse, the Red Ripe Strawberry and the Big Hungry Bear - Help the bear reach the strawberry by doing the Hungry Bear Maze .
-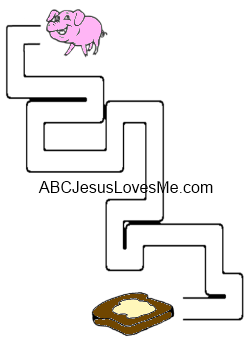 Help Mercy Watson
find his toast in a maze .
Online Ideas:

Highlights Puzzle Buzz
- This activity book from the award winning magazine Highlights is filled with puzzles of all kinds. Quite a step up from ordinary coloring books.
Visual Skill Mazes - This site includes mazes that are very easy up to more difficult.
ABC Teach