- Before reading this book, explain what a map is. In simplest terms, a map is a picture of an area; a birds-eye view. Help the child make a map from your house to a favorite, close destination. After studying local maps, introduce larger area maps.

- Use this book to help your child understand her address as well as sequencing from "me" to the "whole world."
-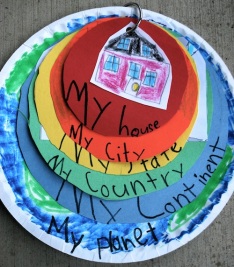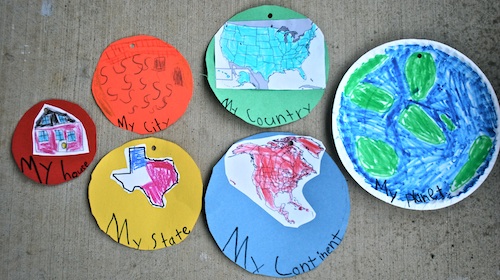 My Place in this World Activity: (Reprinted by permission from Kid World Citizens )
Print the My Place in the World template. Cut around the largest circle and trace on a piece of paper. Cut around the next circle and trace on a difference piece of paper. Continue until you have created seven different sized circles. On the smallest circle, have the child draw a picture of himself and label, "Me." On the next sized circle draw a picture of "My Home." Draw a favorite place to visit for "My City" or find a map of your city on the next sized circle. Draw or cut out a picture of "My State." Cut out the clipart of the United States (or find one for "My Country") for the next sized circle as well as for North America (or "My Continent"). Draw or cut out the clipart of the earth for "My Planet" and glue on the largest circle. Go back and mark where you live on each of the various maps. Punch a hole in the top of each of the circles and order them from smallest to largest. Clip together with a craft ring or piece of string.