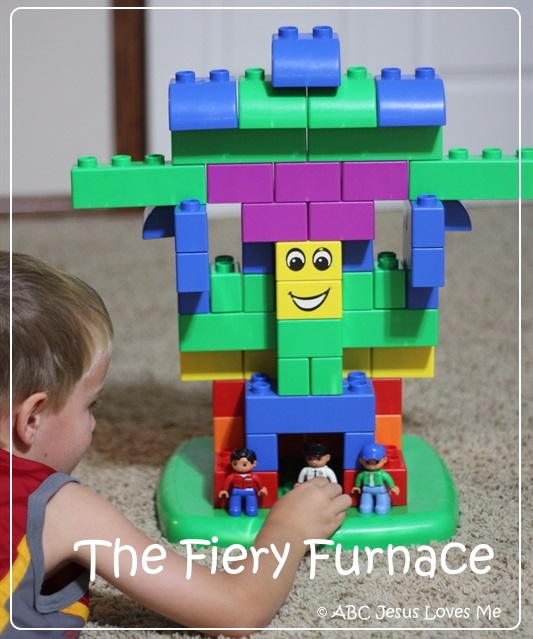 Objective: God wants us to obey Him
Bible and Books
Scripture: Daniel 3
The Beginner's Bible
: pg 247
My Story Bible : pg 54-55
Through the Bible in Felt : pg 139-140
Character Trait
Obedience
Definition: Doing what you are told, right away, and with a happy heart.
Opposite: Defiant, rebelling
Big Thoughts for Little People : Letter M
Verse
James 1:22 (NLT) - But don't just listen to God's word. You must do what it says.
Tune: London Bridges
Don't just listen to God's Word. (shake head, point to ear, make book with hands)
To God's Word, to God's Word.
You must do-- what it says. (point, shout "What is says")
James one twenty-two. (make book with hands, one finger, two fingers)
Songs and Poems
• Trust and Obey (Traditional)
Trust and obey (march in place and then salute)
For there's no other way (cross arms in front of body)
To be happy in Jesus (move fingers to make happy smile at mouth)
But to trust and obey (march in place and then salute)
ABCJLM Activities and Crafts:
ABCJLM Bible Coloring Sheets: Shadrach, Meshach, and Abednego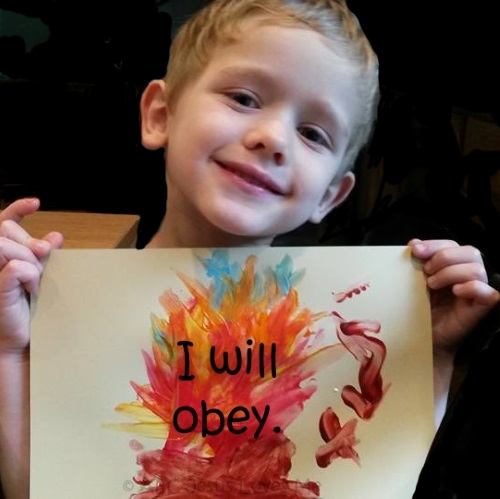 Paint "fire" on a piece of paper using red, orange, and yellow paint. Add the title "I Will Obey." (image by jamie)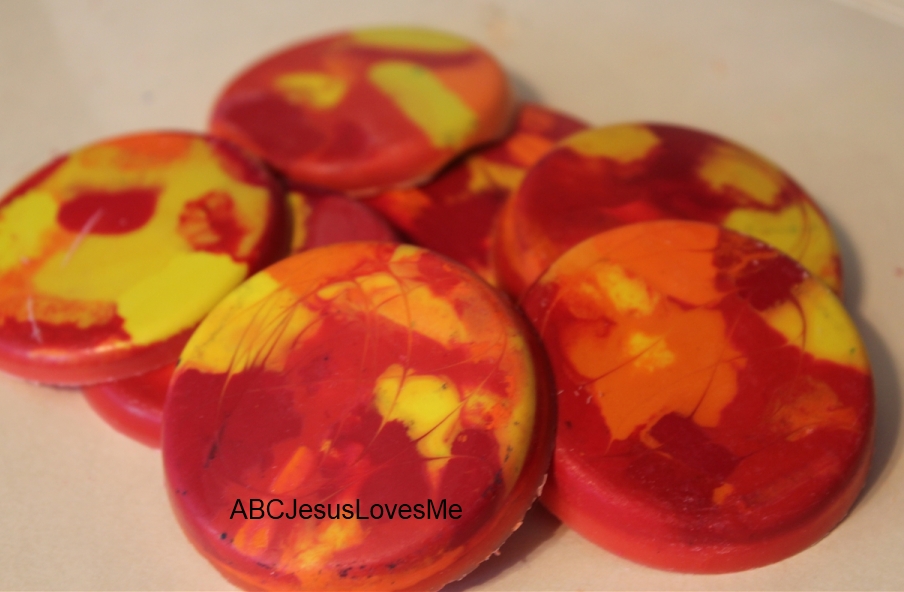 - Make Firey Crayons (Unknown Source)
Gather old red, yellow, and orange crayons. Remove the paper and break the crayons into small pieces. Fill muffin tin cups halfway full with a mixture of the broken crayons. Place the crayons in a 250 degree oven and wait. Because different brands of crayons are made of different ingredients, the crayons will melt at varying speeds. Once the crayons are totally melted, use a toothpick to swirl the colors together. Remove the tin and allow the crayons to cool. The crayon material contracts as it gets cold making the new crayons easy to pop out of the muffin tin. Read more ...
- Play "Simon Says" to coincide with the obedience theme.
-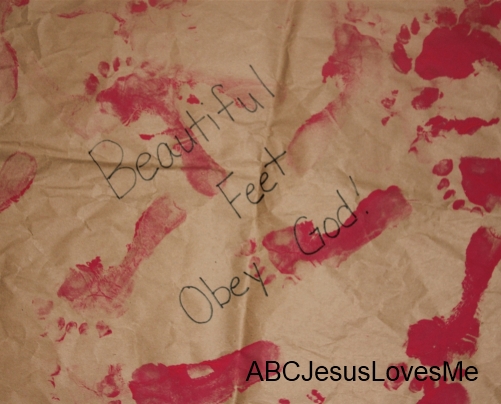 Beautiful Feet
Paint the bottom of the child's foot. On a large piece of paper have the child create foot prints. Add the title, "Beautiful Feet." Discuss how our feet are beautiful when they are obeying.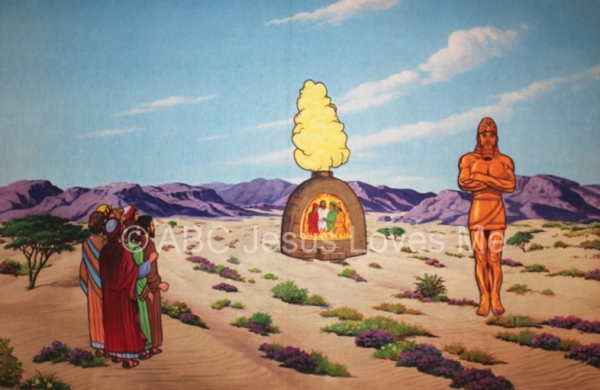 Telling the Story with Flannelgraph:
This story is in rough draft.
Scripture: Daniel 3
Flannelgraph Needed:
Water board

Abednego - 20
Shadrach - 54
Meshach - 55
Statue - 217

Have on the board -
Have in order -

Also needed: burning candle
Story:
I love to light candles in our home. The flickering flame is so pretty. But fire can be good and bad.
Tell me how fire is good? (Keeps you warm, light)
But fire can also be really bad when it burns something that we don't want to lose.
How does fire feel? (Hot)
Show me what you do when you get really hot.
Three men in the Bible had an experience with fire. Fire that was really, really hot.
In Daniel 3 we meet three of Daniel's friend – Shadrach, Meshach, and Abednego. They all worshipped the one true God. Sadly the king - Nebuchadnezzar – did not worship God. He had pretend gods.
One day the king told everyone to bow down and worship a golden statue that he built. He said, "As soon as you hear music and instruments, you'll bow down to that golden statue, or you'll be in trouble. If you don't bow down and worship it, you'll be thrown into a fiery furnace!"
So, the instruments were played.
Everyone bowed down. No. There are three people still standing.
Shadrach said, "No. I will not bow down to a pretend god. I only worship the one true God."
Meshach said, "No. I will not bow down to a pretend god. I only worship the one true God."
Abednego said, "No. I will not bow down to a pretend god. I only worship the one true God."
This made Nebuchadnezzar really mad. Shadrach, Meshach, and Abednego were headed to the fiery furnace. And because he was so mad, he told his servants to make the fire very, very, very hot.
Nebuchadnezzar ordered some of his strongest men of his army to bind Shadrach, Meshach, and Abednego . So they were tied up with their pants, robes, shoes, and garments on and throw them into the blazing furnace.
But suddenly, Nebuchadnezzar noticed something. "Didn't we tie up three men and throw them into the furnace?" he asked his servants. "Yes, three men."
Look, Nebuchadnezzar said. I see four men, untied, walking around in the fire unharmed. And the fourth looks like a god!"
Then Nebuchadnezzar came close to the door of the fiery furnace and shouted, "Shadrach, Meshach, and Abednego, servants of the Most HighGod, come out! Come here."
And they did. The three men walked out of the fire not burned. They didn't even smell smoky. God keep Shadrach, Meshach, and Abednego safe in the fire. When the king brought them out of the furnace, he knew that their God was the one true God!
This story is free for family use. If you desire to use this story or any of the ideas on this website in a situation other than in your home and with your child(ren), please purchase a License first. © ABCJesusLovesMe.com and JLM Media, LLC
Online Ideas:
- Coloring Sheet

- Paper Craft

- Stick Puppets - Use the coloring sheets to make popsicle stick puppets to tell the story. If you have a few children, give each child a different puppet to raise when their character is talked about. Shadrach Meshach Abednego King Nebuchadnezzar

- Maze