Our Terms and Conditions allow the online Lesson Plan and Worksheets to be used for immediate family, home use ONLY. Thank you for your honesty.

Items Needed:
Worksheets: Zebra, Circle and Square Truck, Square and Circle, Apple Tree #8
Books: Bible, The Going-to-Bed Book
Activities: Construction paper, large ball, apple stickers, tent, shoe box or Kleenex box, glue, tissue paper, can of refrigerator breadsticks, egg, kosher salt or Parmesan cheese, food coloring, corn syrup, jumbo crayon, paint, jumbo paintbrush
Objectives:
Bible Theme: Special Times with God
Lesson: Prayer Time is Special

Bible Story: The Lord's Prayer
Scripture: Matthew 6:9-13
ABCJLM Interactive Bible Stories
Verse: I Thessalonians 5:17 - Pray without ceasing. (Explain that ceasing means stopping.)
Tune: Hot Cross Buns
Pray without ceasing, (Hands praying, one hand moves out to show "stop.")
Pray without ceasing, (Hands praying, one hand moves out to show "stop.")
I Thessalonians (Form book with hands)
5:17 (Five fingers)
Bible Song: Whisper a Prayer (Traditional)
Whisper a prayer in the morning,
Whisper a prayer at noon.
Whisper a prayer in the evening,
He will keep your heart in tune.
God answers prayer in the morning,
God answers prayer at noon.
God answers prayer in the evening.
He will keep your heart in tune.
Poem: Humpty Dumpty (Traditional)
Humpty Dumpty sat on a wall
Humpty Dumpty had a great fall.
All the King's horses and all the King's men
Couldn't put Humpty together again!
Colors : White, Black
Shapes : Circle, Square
Letters: W-X
Numbers: 1-8
Information : Siblings' Names
Self-care : Meeting New People - Look people in the eyes

Book of the Week:

The Going-to-Bed Book by Sandra Boynton

Fine Motor Skill: Baking/Stirring
Gross Motor Skill: Roll and Throw a Ball
Suggested Activities:
• Bible:
- Prayer is talking to God. He wants us to talk to Him and is never too busy to listen. Prayer is thanking God for what He has given us, asking God for things we need, and asking God to forgive us for what we have done wrong. We can pray anytime and anywhere.

-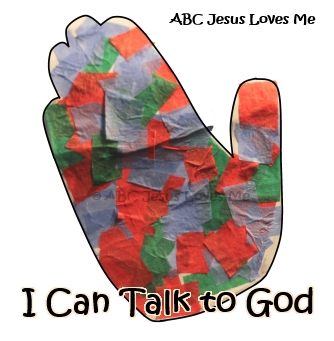 Draw around the child's hand on a piece of paper. Paint watered-down glue on the drawn hands. While still wet, stick down pieces of torn tissue paper. Let dry. Add the title "I Can Talk to God."

- Cover and decorate a shoe box or tissue box. Add a slit at the top large enough for the child to slip his/her hand in. Place pictures of people or things that the child can pray for. Each night draw one or more out so the child can see the picture and know what to pray for before bed.

- Prayer Song (Original Source Unknown):
Tune: Ten Little Indians
One little, two little, three little fingers
Four little, five little, six little fingers
Seven little, eight little, nine little fingers
Ten little fingers folded in prayer.

- I Have Ten Fingers (Adapted from unknown source)
Tune: The Farmer in the Dell
I have 10 fingers (hold up fingers)
They all belong to me (point to self with 10 fingers)
I can make them do great things (thumbs up)
Would you like to see? (point to eyes)
I can shut them tight (make a fist)
I can open them up wide (spread fingers wide)
Put them close together (place fingers together with palms in the air)
I can make them all go hide (place hands behind your back)
I can make them jump up high (hands in the air)
I can make them jump down low (hands on the floor)
Fold them oh so quietly (clasp hands together)
And hold them just so (place hands in lap)
• Colors: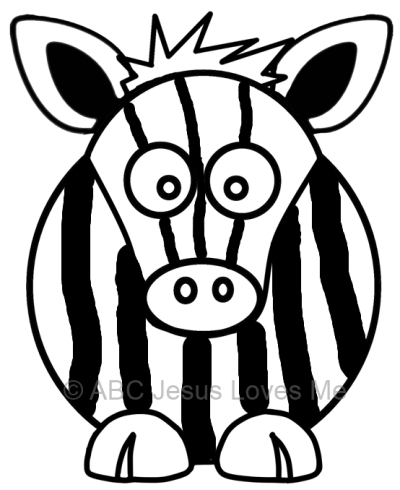 Paint with black and white stripes the Zebra worksheet.

• Shapes:
-

Using the Circle and Square Truck worksheet, cut squares and circles out of construction paper to create a truck.

- On the Square and Circle worksheet, paint or color the square white and the circle black.
• Number: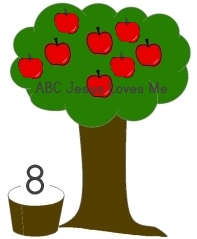 This week outline the tree and basket of the Apple Tree #8 worksheet with a black crayon. Then paint with a mixture of corn syrup (very little needed), water, and food coloring. After drying, add eight apple stickers. Continue to count items throughout the day.

• Self-care and Manners:
Looking people in the eyes shows respect and focus. It also helps the child be understood and projects the volume toward the person.

• Book of the Week:
- Talk about the funny illustrations.
- Turn off the light when the book says "turns off the light" and finish the rest of the book by nightlight.
- Help the child make a bed for a doll or stuffed animal. Assist the child in reading the book to his/her little "friend."
- Read the book under a covered cardboard table or tent with blankets and pillows.
• Fine Motor Skill: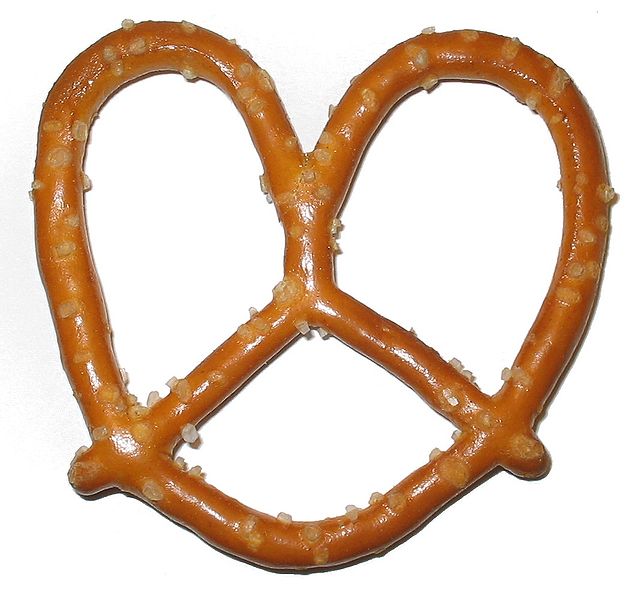 - Prayer Pretzels : The legend is that a monk first made pretzels using leftover bread dough ropes folded as hands in prayer across the chest to remind his students to pray. Using a can of refrigerator breadsticks, make pretzels. Unroll the breadsticks and cut in half. Roll each breadstick into 10" long ropes. Lay a single rope in an upside down "U" on the table. Cross the ends over each other. Bring the ends up to the top to make the pretzel formation and secure. Place 1" apart on ungreased cookie sheet. Brush with a beaten egg and sprinkle with kosher salt (or Parmesan cheese). Bake for 13-15 minutes at 375 degrees.

• Gross Motor Skill:

Using a large ball such as a beach ball, sit on the floor and roll the ball back and forth. Using a soft ball, practice throwing.