Objective: God wants us to obey and respect Him and His Word
Bible and Books:
Scripture: Exodus 20, Deuteronomy 5
The New Bible in Pictures for Little Eyes: pg 102
The Beginner's Bible: pg 120
My Story Bible: pg 26-29
Through the Bible Felt: pg 62-63
Verse:
Deuteronomy 5:16 - Honor your father and your mother, as the Lord your God has commanded you.
Steve Green - Hide 'Em in Your Heart Vol. 2 - #6
Songs and Poems:
- Trust and Obey (Traditional)
Trust and obey (march in place and then salute)
For there's no other way (cross arms in front of body)
To be happy in Jesus (move fingers to make happy smile at mouth)
But to trust and obey (march in place and then salute)
- I'm in the Lord's Army (Traditional)
I may never march in the infantry (march)
Ride in the cavalry (pretend you're riding a horse)
Shoot the artillery (clap hands together and move one hand into the air like a missile)
I may never fly o'er the enemy (fly like a bird)
But I'm in the Lord's army (point to self and then up to God)

I'm in the Lord's army, yes, sir! (salute)
I'm in the Lord's army, yes, sir!

I may never march in the Infantry
Ride in the cavalry
Shoot the artillery
I may never fly o'er the enemy
But I'm in the Lord's army, yes, sir!
-
The Ten Commandment Boogie - Our kiddos love this song by Go Fish.
ABCJLM Activities and Crafts:
- ABCJLM Coloring Sheets: Moses Receives the 10 Commandments, Moses and the 10 Commandments
- Ten Commandments for Kids ( Original Source Unknown )
Put God first.
Worship God only.
Say God's name with love.
Make the Sabbath a special day.
Respect, obey, and honor your parents.
Do not hurt others.
Love your husband or wife and not another.
Do not take something that is not yours without permission.
Tell the truth.
Do not become jealous of what other people have.
- No Rules Game – Introduction to this week's lesson
Give a paper or plastic plate to your child and pretend that it is a "steering wheel" to a vehicle. Invite your child to pretend that he is driving cars, trucks, or buses. Explain that there are no road rules so they may drive in any direction that they like. Allow two or three minutes for your child and yourself to drive around the room. Then talk about how rules keep us safe. Talk about how it would be on the roads if there were no stop signs, driving lanes, or stop lights. Explain that God loves them so much that He gave us rules to keep us safe and happy. In the Old Testament of the Bible, these rules were called the 10 Commandments.

-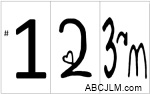 Use the 10 Commandments Clues to help your child remember the commandments and their order.

-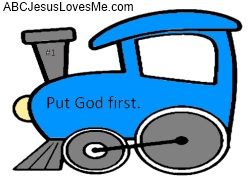 10 Commandments Train - Print, cut, and color the train. Put the train in order discussing each commandment and glue onto a large piece of butcher block paper or post on a wall.
Online Ideas:
- The Story of Moses and the 10 Commandments
- Coloring Sheets - Moses & the Commandments, Moses Holding Commandments, Tablets
- Printables and Crafts - Parchment 10 Commandments Craft, Moses and the 10 Commandments Paper Craft, Assortment of Printables
- A Child's Ten Commandments to Parents by Dr. Kevin Leman