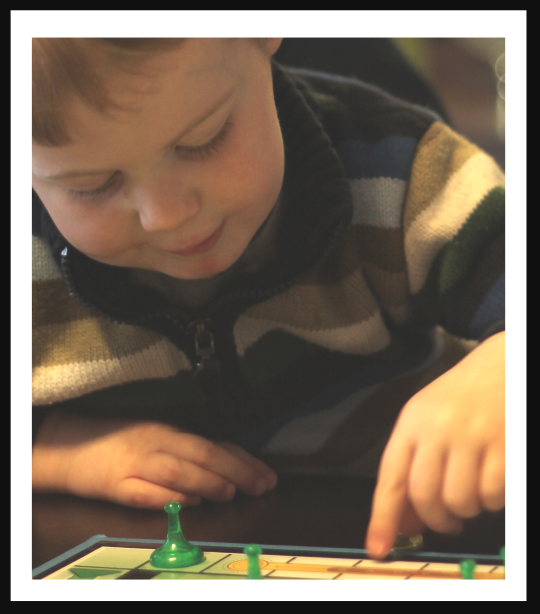 Playing games with a preschool provides learning of academic, 1:1 correlation, taking turns, sportsmanship, and family fun. Below is a list of our favorite preschool games; the ones that my kiddos asked to play over and over. Several of also used throughout the ABCJLM Curriculum for specific learning. Also included are games suggested by the ABCJLM family. These games do not require reading skills which makes them perfect for preschoolers.
See a list of games for preschooler and older children on the ABCJLM Amazon Shop
Candy Land
- Classic game for teaching colors, 1:1 correspondence, and taking turns.


Colorama - A fun game to learn shapes and colors. Unfortunately this game is frequently unavailable.
Card Games for Preschoolers - In the evenings our family loves to play Go Fish, Old Maid, Crazy 8, Slapjack and other fun card games.
Sorry - Excellent game to teach character! Child must be able to do 1:1 correspondence.
Qwirkle is one of our favorite games to play as a family and is an excellent game to teach sorting as groups can be created by color or by shape. Since the actual rules of the game are too hard for preschool children, the 5 Year Curriculum contains game alternatives.
Twister
- While the actual rules will probably be too hard for preschoolers, have fun matching colors and body parts. This game is used in the ABCJLM Curriculum as a Gross Motor Activity.


Hi Ho Cherry-O
- Basic math skills.

Dominoes
- Use for matching, math, counting, colors, and sorting. Picture dominoes are also available for younger kiddos.
Connect Four - Fun fine motor game to work on colors, matching, and strategy.
Memory - There are many options of this game (also called Matching) from Disney to faces, letters to Dr. Seuss. Wonderful for Visual Perception, matching, memory, and taking turns.
UNO Cards can be used for many activities including teaching numbers, colors, and sorting. The game is fun too!
Cootie
- Great fine motor activity!
ABCJLM Bingo Cards - Printable in pdf form.

Lucky Ducks - Teaches matching, memory, and colors.


Zingo - Several versions of this bingo-style game are available for pre-readers and readers to teach vocabulary, sight words, numbers, spelling, and other learning.
Sequence for Kids - This was a favorite of our kids. Great strategy-building game for older preschoolers.