Bible, Books and Video:
Scripture:  Jonah 1:1-3:10
The New Bible in Pictures for Little Eyes :  pg 224-229
The Beginner's Bible
: pg 257-264
My Story Bible :  pg 52-53
Through the Bible in Felt :  pg 176-177

- Play the "Jonah" adventure and use the coloring sheet on the Charlie Church Mouse Preschool Cd-Rom.  Read more ...
Verse:
James 1:22 (NLT) - But don't just listen to God's word. You must do what it says.
Tune:  London Bridges
Don't just listen to God's Word. (shake head, point to ear, make book with hands)
To God's Word, to God's Word.
You must do-- what it says. (point, shout "What is says")
James one twenty-two. (make book with hands, one finger, two fingers)
Songs and Poems:
- Sing "Rock the Fish" - While sitting criss-cross, have the children hold their legs and rock back and forth while singing this song.
Tune:  Row, Row, Row Your Boat
Rock, rock, rock the fish
Jonah is inside
He tried to run from God
But God won't leave his side.
ABCJLM Activities and Crafts:
- ABCJLM Bible Coloring Sheets: Jonah in the Whale , Jonah Praying
- "Fish in the Sea"
1 package blue gelatin, 4-6 candy fish, 4-6 clear plastic cups, whipped cream topping - Make the gelatin according to the directions on the package.  Pour the gelatin into the clear plastic cups.  Place a candy fish in the middle of the gelatin in each cup.  Refrigerate.  Top with whipped cream to make "waves."

- "Fish in the Water"
Fill a 2-liter bottle half full of water tinted with blue food coloring.  Fill a balloon full of water until it is about 3" long and tie off.  Poke the balloon into the bottle.  Turn the bottle on its side and rock to see the whale ride the waves.  ( Original Source Unknown )

- Fish Cookies
From sugar cookie dough, cut triangles that are two different shapes (or use a whale cookie cutter).  Overlap the two triangles (with the points of the triangles facing the same direction) to make a fish shape.  Press down to make the shapes adhere together.  Bake according to the recipe.  Frost the fish cookie with blue icing.  Add a teddy bear cookie or draw a stick man in the frosting to represent Jonah.

- "Hug and Seek"
Play a variation of Hide-and-Seek to help the child(ren) learn we can't hide from God.  Have one person count to ten while everyone else hides.  Each time the seeking person sees a "hidden" person, give him or her a hug and say, "God sees you and so do I."  ( Idea from Pray and Play Bible )

- Using a empty two-liter bottle, decorate it so it look like a fish.

- Jonah in the Whale
Add a triangle tail to right side a paper plate.  Cut a horizontal slit in the middle of the plate.  Add an eye and mouth on the left side to create a whale.  Draw a face on the back of a plastic spoon and slide the spoon (Jonah) into the slit.
-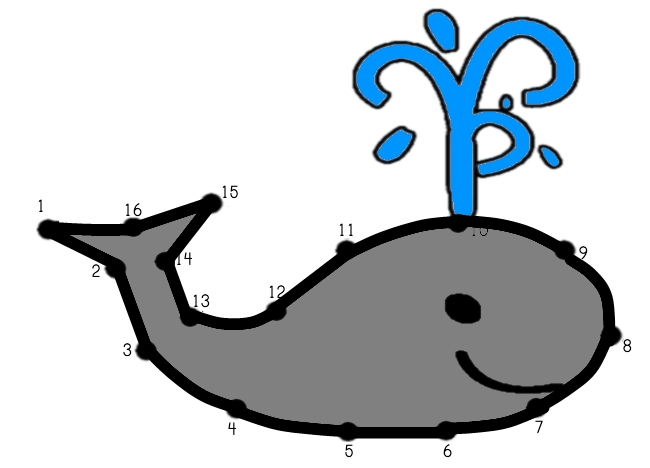 Whale Dot-to-Dot 1-16
Telling the Story:
This story is in rough draft.
Story #1:
God told Jonah to go to a city called Nineveh.  Tell the people who live there that they are making very bad choices.  Their bad choices made God very sad.  But Jonah didn't want to.  By his actions, he told God, "Nuh-uh. I am not going to do it."  He ran away from God and got on a boat to sail to another place.
Boys and girls, can you run away from God?  No way.  God is always with you.  So while he was on the boat, a great storm blew up.  (Let's be the wind.)
Everyone on the boat was so afraid.  (Show me your scared face.)
Except for Jonah.  He wasn't scared because he was asleep! (Show me your sleeping face.)
The sailors woke Jonah and he said, "Throw me into the sea!  It is all my fault.  I have disobeyed God."
As soon as Jonah was in the sea, the storm stopped!
Then…gulp, gulp, swallow!  An enormous big fish swallowed Jonah.
We are going to sing a song called "Rock the Fish."
Tune:  Row, Row, Row Your Boat
Rock, rock, rock the fish
Jonah is inside
He tried to run from God
But God won't leave his side.
While in the fish Jonah prayed to God a whole bunch!  He asked God to forgive him.  He thanked God for rescuing him from the ocean water, even though he had disobeyed.  Jonah prayed and he waited.  Then God sent the big fish close to the land.  The fish began to cough and choke and aak!!  The fish coughed Jonah right up onto the beach!!
Next week you will see what happened to Jonah after he decided to obey.
Our verse this month is Jonah 1:9, "I worship the Lord."
Worshiping the Lord can be singing, dancing, praying.  Do you know that you can even worship the Lord be picking up your toys.  If you have a happy heart as you obey your parents, you are worshiping the Lord.
So this week when you get scared, need forgiveness like Jonah did, or need to obey your parents, remember our verse and worship God by praying to Him.
Story #2:
Thank you to Amy at Traurigs In Training for sharing this story.
God chose Jonah to do a very special job for him. God told Jonah, to travel far away to a place called Ninevah. Can you say Ninevah?
The people there were making very bad choices. God said to Jonah "I want you to go to Ninevah and warn the people. Because they are so wicked I am going to destroy them."
Jonah was too scared to go. Can you make a scared face?

The people of Ninevah were SO wicked and they did not love God or obey him. Everyone knew that the people there were mean to anyone they didn't like. Jonah was scared of what they might do to him if he went there.

Jonah decided to disobey God and run the opposite way.

Instead of going to Ninevah, Jonah got on a boat that was saiing to Tarshish. Now, is that where God told Jonah to go?  No!
Jonah was trying to go as far away from Ninevah as possible! Uh oh!

Is it ever a good idea to disobey God like Jonah did? Jonah was trying to hide in the boat. Who was he hiding from?  (God) Can we hide from God?  No!
God is always watching over us! He saw Jonah in that boat. There is no place we can go where God cannot find us. Silly Jonah!

While out at sea, a terrible storm came. All the other sailers on the boat were scared. Can you make a scared face?

(optional) Make a thunderstorm:  Show your children each of these actions to prompt their participation. Have children (while still sitting) stomp their feet in front of them to make the sound of thunder. Rub your hands together to make the sound of rain. If children get REALLY into this activity- great! Use their excitement to talk about the LOUD storm they are making just like the LOUD storm Jonah was in. To calm the kids back down, have them rub their hands together to make the rain sound. Slow down the rain sound until it is quiet.

The sailers were so scared that they were throwing things out of the boat! But do you know what Jonah was doing? Jonah was sleeping!
The captain of the ship said, "Jonah, how can you sleep? Get up and pray to your God to save us!"

The sailers were trying to figure out who's fault the storm was. They knew God was angry because someone disobeyed Him but they didn't know who disobeyed. Do you remember who disobeyed God? Jonah!

The sailers figured out that Jonah disobeyed God. Jonah told the other sailors to throw him out of the boat and into the water. Jonah said, "You'd better throw me overboard. Then the storm will stop."

This made the sailors sad. Can you make a sad face? They did not want to throw Jonah over but they knew if they didn't the loud storm would sink their boat.

They threw Jonah overboard- right into the stormy water. Wow! And do you know what happened next?

The storm stopped.

And what happened to Jonah?

God sent a really really really big fish who opened up his huge mouth and swallowed Jonah. How big can you open your mouth? Can you open it as big as the fish?

(Hold up 3 fingers.) Can you guess how many days Jonah was in the fish's belly? (Count your fingers with them.)

While in the fish's belly, Jonah prayed. Jonah told God he was sorry for disobeying Him and promised God that he would go to Ninevah.

God made the fish swim close to land and spit Jonah out. Pa-toee!

Because God loved him, God gave Jonah another chance to obey and do what was right.

Jonah went to Ninevah. When the people saw him he said, "Forty days from now, God is going to destroy you because you are not doing what is right and full of sin."
Jonah was amazed. (Make an amazed expression.) The people of Ninevah did not hurt him. no! The people of Ninevah were so sorry for being wicked and they asked God to forgive them.

Do you think God forgave the people of Ninevah? He did!

Optional endings:
- God forgave the people of Ninevah even when they made really bad choices. When we tell God we are sorry choose to obey God, He promises to forgive us too!
- God wanted to use Jonah. God wanted to help Jonah be brave. God wants to use you too! God can help you be brave too!
- Jonah chose to obey God. We can obey God too.
- When the people of Ninevah chose to obey God and listen to Jonah, Jonah still wanted God to punish them. God did not. God loves and cares for his people. God wanted Jonah to love and care for the people of Ninevah too. How can we love and care for people too?
This story is free for family use.  If you desire to use this story or any of the ideas on this website in a situation other than in your home and with your child(ren), please purchase a License first. © ABCJesusLovesMe.com and JLM Media, LLC
Online Ideas:
- Coloring Sheet - Jonah in the Whale
- Assorted Craft Ideas
- Lift the Flap to See Jonah Paper Craft - Whale , Jonah (use one praying Jonah)
- Dot-to-Dot (1-18) Jonah