Teaching the ABCJLM Bible Lessons
The same Bible lesson is taught for a week at a time. This gives ample opportunity for a child to learn the character names, story plot, and memory verse. I suggest use of props or flannelgraph to teach the story. On the first day, tell the child the story using the props yourself. The next time allow the child to assist with the props as you tell the story. By the last time, the child should be able to tell the basic plot of the story by themselves. In a week, introduce the story on Monday. Leave the props out in an area where the child can play with them. On Tuesday, allow the child to assist you with the props as you tell the story. On Wednesday, let the child interject main points into the story – maybe peoples' names or places. Continue until on Friday the child can tell the story on their own to someone else or put on a play for their stuffed animals or dolls.
• Name toy people and stuffed animals Bible names.

• Have a puppet tell the story.
•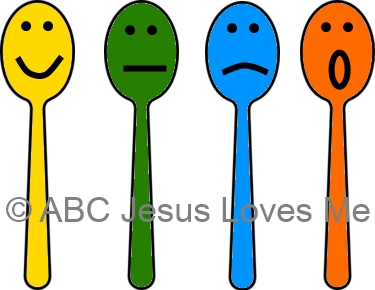 Spoon Puppets 
By creating faces on plastic spoons, an everyday utensil can become a fun way to tell a Bible Story.  Add yarn for hair or scraps of material for clothes, and you can tell any story.  Let the child play with the spoon puppets to tell her own story.
• Refer to a Bible timeline to help your child understand the chronological order of Bible stories.
• 
 Through the Bible in Felt - I believe that the use of flannelgraph figures and objects is one of the best ways to teach children Bible stories. Betty Lukens sets are specifically references in each Lesson Plan. Read more...
• When practicing the weekly Bible verse, don't dismiss the scripture reference.  Help the child remember the reference by displaying the numbers on their fingers.  This is excellent fine motor practice as well (ie. Genesis 1:1 - point "one" with one hand and then "one" with the other hand).  Another option is to point to numbers on a piece of paper or made with magnet numbers on the refrigerator.
• Refer back to Bible lessons as situations arise throughout the day to remind the child that God is in control (ie. if it is raining, discuss Noah; if the child is afraid, talk about Daniel in the lion's den).  Read more about Teachable Moments.

• Encourage the child to pretend they are a Bible character in their playtime (Adventures in Odyssey by Focus on the Family has many episodes depicting this).