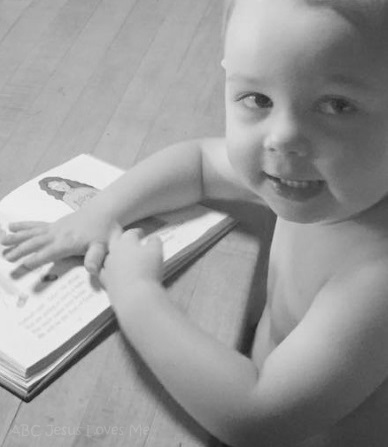 image shared by suzy
In order to study the Bible, I believe everyone should know the order of the Books of the Bible. Because of its importance, this activity in part of the 4 Year (New Testament books) and 5 Year (Old Testament books) Curricula. With a little help, most preschool children can master this task. Here are ideas to help get you started:
1. Break each testament into small groups focusing on a small group at a time. (See below)
2. Use a song.
ABCJLM Old Testament Song

ABCJLM New Testament Song
There are several other different songs available. Find one you like and listen to it. Here are just a few:
3. Work on the list in the car, in the bathtub, while swinging, at the dinner table, or during family time. Our kiddos earned the enter list while driving in the car each morning.
4. The Books of the Bible Flashcards
5. Hand Motions (Reprinted by Permission)
Although most of the meanings behind the hand motions are above a preschooler's understanding, using hand motions is one more way to learn the books of the Bible. The hand motions are created using the major themes of each book. This would also make a neat part of a program with a whole group of kids doing these together. Adapt and change where needed!
Old Testament Hand Motions New Testament Hand Motions
Old Testament Books
The Pentateuch or Law - The first five books of the Bible, all written by Moses
Genesis
Exodus
Leviticus
Numbers
Deuteronomy

Historical Books - Follow the story of Israel.
Joshua
Judges
Ruth
1 Samuel
2 Samuel
1 Kings
2 Kings
1 Chronicles
2 Chronicles
Ezra
Nehemiah
Esther

Poetry
Job
Psalms
Proverbs
Ecclesiastes
Song of Salomon

Teachings of the Major Prophets
Isaiah
Jeremiah
Lamentations
Ezekiel
Daniel

Teachings of the Minor Prophets
Hosea
Joel
Amos
Obadiah
Jonah
Micah
Nahum
Habakkuk
Zephaniah
Haggai
Zechariah
Malachi
New Testament Books
The New Testament starts with the life of Christ and the beginning of the church and concludes with the teachings of the apostles.
Gospels - Four different men write about the life of Christ.
Matthew
Mark
Luke
John

History - Explains how the church began and grew and how the Good News of Jesus Christ spread across the world.
Acts

Letters by Paul - These are letters written to different people and churches to explain what it means to be a follower of Jesus.
Romans
1 Corinthians
2 Corinthians
Galatians
Ephesians
Philippians
Colossians
1 Thessalonians
2 Thessalonians
1 Timothy
2 Timothy
Titus
Philemon

Letters by Others
Hebrews
James
1 Peter
2 Peter
1 John
2 John
3 John
Jude

Prophecy - A book explaining what is going to happen at the end times.
Revelation
The Books of the Bible Set to Familiar Tunes
Old Testament Song (Original Source Unknown)
Tune: 10 Little Indians
Genesis, Exodus, Leviticus, Numbers, (1 little, 2 little, 3 little Indians)
Deuteronomy, Joshua, and Judges, (4 little, 5 little, 6 little Indians)
Ruth, First and Second Samuel, First and Second Kings, (7 little, 8 little, 9 little Indians)
First and Second Chronicles (10 little Indian boys)

Oh - Ezra, Nehemiah, Esther, Job
Psalms, Proverbs, Ecclesiastes,
Song of Solomon, Isaiah, Jeremiah,
Lamentations,

Oh - Ezekiel, Daniel, Hosea, Joel,
Amos, Obadiah, Jonah, Micah,
Nahum, Habakkuk, Zephaniah,
Haggai, Zechariah, Malachi.
Old Testament Books of the Bible
Tune: Twinkle, Twinkle Little Stars
Genesis, Exodus (Twinkle, twinkle)
Leviticus, Numbers (Little star)
Deuteronomy, Joshua (How I wonder)
Judges and Ruth (What you are)

First and Second Samuel (Up above)
First and Second Kings (The world so high)
First and Second Chronicles (Like a diamond)
Ezra, Nehemiah (In the sky)

Esther and Job and (Twinkle, twinkle)
Psalms and Proverbs (Little star)
Ecclesiastes (How I wonder)
Song of Solomon (What you are)

Isaiah, Jeremiah (Up above)
Lamentations, Ezekiel (The world so high)
Daniel, Hosea, Joel (Like a diamond)
Amos, Obadiah (In the sky)

Jonah and Micah and (Twinkle, twinkle)
Nahum and Habakkuk (Little star)
Zephaniah, Haggai (How I wonder)
Zechariah, Malachi (What you are)

39 Books make (Twinkle, Twinkle)
Up the Old Testament (Little star)
Preparing the Way (How I wonder)
For Jesus our King (What you are)
New Testament Books of the Bible
Tune: Twinkle, Twinkle Little Stars
Matthew, Mark, Luke, (Twinkle, twinkle)
John, Acts, Romans (Little star)
First and Second (How I wonder)
Corinthians (What you are)
Galatians and Ephesians (Up above)
Philippians, Colossians (The world so high)
First and Second (Like a diamond)
Thessalonians (In the sky)

First and Second (Twinkle, twinkle)
Timothy (Little star)
Titus and Philemon (How I wonder)
Hebrews and James (What you are)
First and Second Peter (Up above)
First and Second (The world so high)
Third John (Like a diamond)
Jude and Revelation (In the sky)
27 books make (Twinkle, twinkle)
Up the New Testament (Little star)
Jesus teaches us (How I wonder)
To follow Him (What you are)