Drawing and Handwriting
The ultimate goal of fine motor skills is for the child to be have the life skills to dress, write, play an instrument, and manipulate small objects.
Through out the ABCJLM Curriculum, it is suggested that a child use a broken crayon to color and write. Occupational therapists have discovered that broken crayons (under 1" in length) force a child to correctly hold a writing utensil so no bad habits develop. The end goal is that the child will hold a utensil with her thumb and index finger while supporting it on the middle finger. Use of markers or pens in craft and writing activities is discouraged as they do not strengthen fine and gross motor skills as much as crayons and pencils.

-
Use of a Stetro Pencil Grip help a child correctly hold a pencil.
- Tape a large piece of paper under a table. Having the child lay on his back, draw for fun make simple shapes on the paper.
- Draw a large shape (e.g. circle, square, etc) on a place a piece. Place the paper on the carpet. Using a push pin, instruct the child to punch around the edge of the shape until the shape is free from the paper,
- Dot-to-Dot worksheets help in pencil control

- Play "Draw What I Draw" and have the child draw what you draw and then reverse. Begin with lines and then move to simple shapes.

- Give the child different shaped objects to draw around. You can also make these out of cardboard.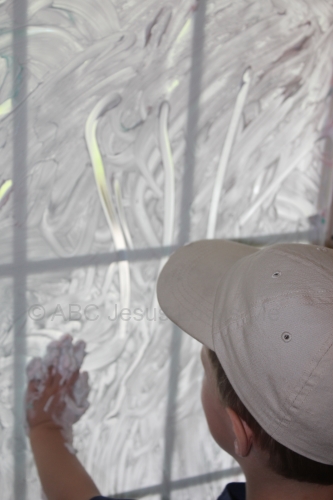 Children develop fine and gross motor skills best when they work on a vertical surface. While holding a writing utensil or brush against a vertical surface, muscles in the wrist and hand are strengthened. Also, additional core muscles are used when standing to write or paint. These same muscles are not used when writing or painting on a horizontal surface. For this reason, place craft, writing, and drawing projects on a vertical surface as much as is feasible.
This page may contain affiliate links. Please read our disclosure policy.