Our Terms and Conditions allow the online Lesson Plan and Worksheets to be used for immediate family, home use ONLY. Thank you for your honesty.
Items Needed:
Books:
Activity: Wooden blocks, paint
Objectives:
Bible Theme: God Made the World Around Me
Lessons: Day, Night, Water, Sky, Plants, Sun, Moon, Stars

Bible Story: Creation Days 1-4

Verse: Genesis 1:1 - In the beginning, God created the heavens and the earth.

Bible Song: This Little Light of Mine, B-I-B-L-E, Praise God
Poem: Pat-a Cake; Twinkle, Twinkle Little Star
Colors: Red, Blue, Yellow
Shapes: Circle, Line
Letters: A-G
Numbers: 1-2
Information: First Name
Self-Care and Manners : Sitting Quietly; Saying "Please" and "Thank You"

Fine Motor Skill: Blocks
Gross Motor Skill: Follow the Leader
Suggested Activities:
• Review all objectives and books covered in the past weeks, and complete any activities that you were unable to finish.

•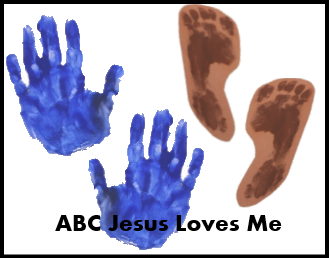 Create a Handprint and Footprint Poster. Keep it to compare with one that will be created at the end of the curriculum. You may want to begin the Handprint and Footprint Calendar for a great Christmas gift.
• Complete Curriculum Addition:
Each review week in the Complete 2 Year Curriculum includes ideas for field trips and making memories.
• Fine Motor Skill:

Build with Wooden Blocks - bridges, buildings, trains, etc.
• Gross Motor Skill:
Play Follow the Leader - As the leader, be sure to do activities that involve gross motor skills (crawling, jumping, rolling, etc.)