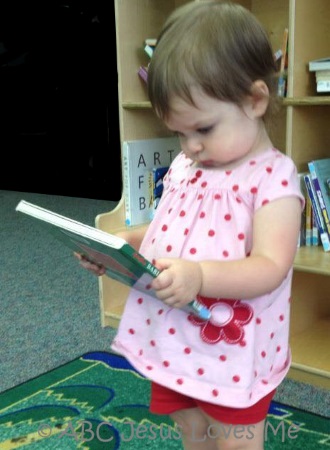 image shared by Laurin
The research is unanimous - children should be read to and read to often. Each of the ABCJesusLovesMe Curriculum include a "Book of the Week" as well as supplemental books to enhance the learning. Upon finishing the five ABCJLM curricula, your child will have been introduced to 201 of the top children's books according to ABCJLM users and our family. Activities are provided in each Lesson Plan to further the literacy learning.

Step #1.1: Read, Read, Read
ABCJLM Book of the Week Lists
Tips
• The local library is a wonderful place to visit and increase a child's repertoire of books. Be sure to look into the library's Read Aloud times for the various ages as well as any programs that may be occurring for the preschool age.
• Always make reading time fun and full of love. Never allow reading time to be a negative experience.
• A child will pick up on your attitude toward reading. If the child sees you enjoying to read, they will be more likely to enjoy it as well.
• Draw attention to words throughout the day on signs, labels, and while driving.
• Let the child turn the page (excellent fine-motor practice)
Books Suggested to Aid in Teaching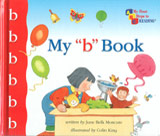 Set of My First Steps to Reading
(a-x,y,z) - by Jane Belk Moncure - Each book is linked to Amazon.com in the weekly lesson. Books may be purchased together or separate (i.e. My "B" Book) Read more ...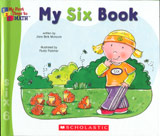 Set of My First Steps to Math (1-10) - by Jane Belk Moncure - Each book is linked to Amazon.com when used in the weekly lesson for easy purchase. Books may be purchased together or separate (i.e. My Six Book) Read more...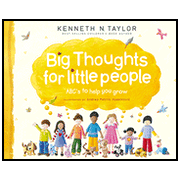 Big Thoughts for Little People: ABC's to Help You Grow - This a book that I highly suggest you use throughout the curriculum to learn about Jesus as well as work on letters and their phonetic sounds. Throughout the 4 Year Curriculum this book is used for character reinforcement. This is one of the few books that I consider a "5 Star" book!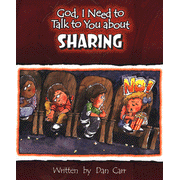 God I Need to Talk to You About by Dan Carr - These books (24 in the series) are small but packed full of valuable character education. I have added the various books throughout the 4 Year Curriculum to help teach the character trait. Read more...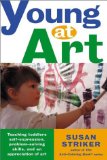 Young at Art: Teaching Toddlers Self-Expression, Problem-Solving Skills, and an Appreciation for Art
- This is a great "curriculum" to teach art to your kiddos. I like the simple ways that it helps a mommy incorporate art into a preschooler's life.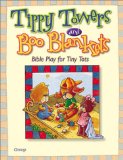 Tippy Towers and Boo Blankets: Bible Play for Tiny Tots - Idea book to help you incorporate scriptural truths into everyday play!
Building and Organizing a Home Library
I believe it is mucho importante to build a library of quality books in your home. Books that you read over and over again while introducing your child to classic characters and authors.
According to Scholastic.com, a home library can:
Improve a child's vocabulary and overall reading performance.
Help children do better in math, science, and social studies.
Increase a student's ability to do better on standardized tests.
Increase the likelihood a child will go to college.
Read these blog posts to learn "How to Build a Home Library" and then "How to Organize Your Home Library."
Step #1.2: How to Read
Even before their precious bundle of joy is born, parents are told the importance of reading to their child. Most professionals agree that children should be read to at least 15 minutes a day. But is there a certain way to read to a child? One academic term that you will hear floating around is "Picture Walk." But what is it? Why is it important? How is it done?
How to Picture Walk Through a Book


Before reading a new story with your child, get in the habit of first taking a "Picture Walk." It is called a "picture walk" because you "walk" through the pictures or preview the story without reading any words. This activity helps build interest in the story, aids in comprehension, develops imagination, and teaches the child to use visual clues as a reading strategy. Although important with preschool aged children, this practice is essential with children learning how to read. Read more ...
• Ask the child what they think will happen next
• Point out various items in pictures
• With new words – ask the child what they think the word means
• Review the book after reading and throughout the day
• Talk about favorite, sad, or funny parts of the story
• Name things in the pictures
• Are there animals in the picture? What sounds does that animal make?
• Point and count the animals, vehicles, people, etc.
• Point under the words as you read them. Point to items in the picture as they are talked about in the story
• Look at the title and front cover to guess what the story will be about
• Following the story, talk about what the child liked or disliked about the story
• Picture walk through the book first. Try to figure out what is going to happen
• Stop and talk about what has happened so far
• Stories can be a great time to discuss positive and negative choices that characters made throughout the story
• Allow the child to find some letters he/she knows on the cover
• Discuss the media used to create the pictures in the book (i.e. crayon, paint, chalk)
• Make sure you read using different voices. Kids love this!
Reading Familiar Books
• Have the child fill in key words, especially rhyming words
• Have your child read predictable words
• Have the child read the book to you
After Reading Discuss...
• What was your favorite part?
• Did the ending surprise you?
• Who was your favorite character?
• What happened at the beginning? middle? end?
Tips
• How to Read to Your Child
• How to Grow a Reader
Step #2: Prereading
Being able to truly read (not just memorize words) is a developmental milestone. Just as you can't force a child to crawl or walk…you can not force a child to read. It is a process that requires developmental maturity.
Being able to put sounds together is a required prereading skill. The following list shows in order of difficulty placing sounds together..

1. Compound words: cow...boy [cowboy]
2. Syllables: pen...cil [pencil]
3. The first sound with all of the others: b...ag [bag]
4. All but the last sound plus the last sound: mea...t [meat]
5. Each sound separately: c..l..a..p [clap]
Adapted from Wow! I'm Reading!
Tips
Step #3: Beginning Reading
Once your child has mastered the phonetic sound of each letter, he or she may be ready to read. Although reading is not specifically part of the 5 Year Curriculum , it may be added for those who are ready.
Bob Books
by Bobby Lyn Masien as they are excellent curriculum for beginner readers. We use these books with our children. The first Bob Book story begins with words created from four letters. Gradually new sounds are added until all of the letters of the alphabet (except Q) are being read by your child in short stories. Be sure to read the back cover to get the gist of the story. Click to read some suggestions and print the "Bob Book Reading Checklist." If you choose to begin the reading process, remember to take your child's leads and make each reading situation fun and positive. Read more...
Teach Your Child to Read in 100 Easy Lesson promises that in only "20 minutes a day and within 100 days your child will be reading on a solid 2nd-grade reading level" using an uniquely written alphabet to help in phonemic awareness. Horizontal lines are placed over long vowels, slurs are used to combine blends, and dots and accents are used under letters to differentiate between sounds held out and explosive ones. Read how I used this book with Peanut.
I Can Read Songs is a video option to teach sight words. Available in DVD and CD, your child is introduced to 13 high-frequency sight words through songs. Read more...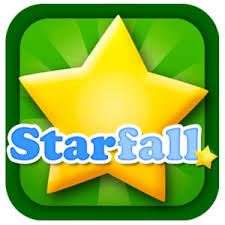 Starfall is an excellent website with a "Learning to Read" section. The sequence moves pretty quickly, but it can be a good supplement.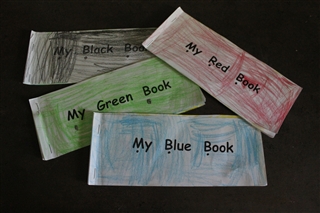 The free, printable "My Color Books" are an excellent way to help your child experience the joy of reading out loud and learning the 1:1 relationship between words and groups of letters. These books are used in the 4 Year Curriculum.